Kao Collins Increases Shelf Life of SIGMA Solvent Ink
---
Kao Collins announced that ongoing testing of their new SIGMA solvent ink proves the product now has a shelf life of 24 months – double the shelf life of 12 months when the product launched in October 2019. SIGMA now offers four-times the shelf life compared to competitors.
Longer shelf life means inkjet printing companies waste less ink, providing an added environmental benefit to using SIGMA ink.
The extended shelf life of SIGMA ink, along with its 12-hour decap time, offers a sustainable alternative for printers who rely on solvent ink for HP 45 industrial printing systems.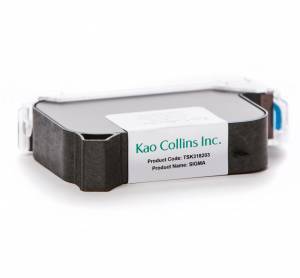 "We heard from OEMs and customers who were tired of having to worry about expired cartridges because of their inks' limited shelf life," said Chris Rogers, Vice President of Kao Collins. He added, "Now our partners don't have to worry about whether or not out-of-date cartridges will work properly, and they can focus on comfortably running production."
The industry-leading shelf life of SIGMA ink sets it apart from all other TIJ solvent inks.
SIGMA ink is an ideal inkjet printing solution for mailing and addressing industries, along with product coding. The ink adheres to more substrates, including films such as BOPP, PE, PET and PP, foils, a variety of label materials, some metals, and many other non-porous materials.
"Overwhelming feedback about sustainable supply was our primary development focus," Rogers said.
Contact Kristin Adams at kadams@kaocollins.com for more information about the Sigma solvent inkjet ink.
*HP is a registered trademark of Hewlett Packard